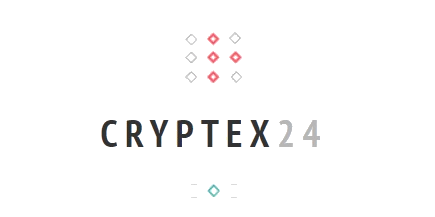 Pay by Western-Union (in branch or on the internet by credit card) via the website of Crypex24.com
Thanks to the Cryptex24.com platform, it is now possible to pay for anabolic steroids QUICKLY, SIMPLY and ANONYMOUSLY!
HOW DOES CRYPTEX24 WORK?
This payment method is much faster than a conventional Western-Union.
Thanks to the simplicity of the platform, you will be able to pay in a few minutes your order.
Its principle? Cryptex24.com serves as an intermediary: you pay Cryptex24.com by Western-Union by giving them our Bitcoin address.
Cryptex24 then sends us Bitcoin after your payment, thus ensuring a reliable, secure, fast and anonymous payment.
Minimum order: 300 € (or 300 $). 24% Cryptex6 charge. The Western-Union transfer surcharge will also be your responsibility.
Here are the 4 simple steps to follow:
1 - Order amount on Cryptex24
After ordering and choosing your payment method on our website (Western-Union via Cryptex24), save the Bitcoin address we give you

Then go to the website https://cryptex24.com/en/exchange/wu-usd-to-bitcoin-small/

In the Western-Union zone ("YOU SEND"), enter the amount of your order in USD.
Cryptex24 automatically converts the amount into Bitcoin, which we must receive on the Bitcoin address we gave you on the confirmation page of your order. You will give this address to Cryptex24 on the following page.
Enter your e-mail address and click on "EXCHANGE NOW!"
2 - Cryptex24 account and Bitcoin address
Then register by creating a password and fill out the form:
Fill in the information requested below, surname, first name, city and YOUR COUNTRY (It must be the same information you give to Western Union)
Note: Cryptex24 gives you a default country, please enter your country!
Put the Bitcoin address we gave you
Press the red "SAVE ORDER" button

3 - Pay with Western Union
The Crytex24 site has just registered your transfer. She will give you a Western-Union payee within a few minutes to make your payment.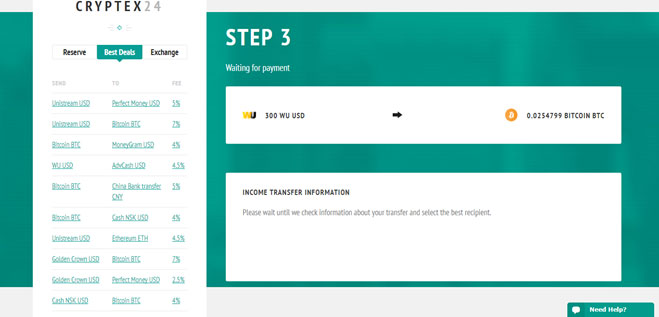 Then confirm your account:
When you registered, Cryptex24 sent you a verification email. Click on "Activate Account". You will be redirected to the confirmation page Cryptex24: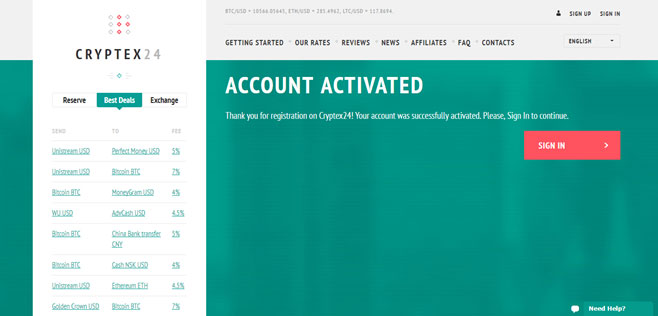 Click on the red "SIGN IN" button.
Here is your customer area with the history of all your transfers:

Go to the "LATEST ORDERS" section and click on the payment link. You will find contact information for the recipient Western-Union to transfer the funds.
Then go to a Western-Union agency or on their website to make the payment, along with the recipient information that was provided to you. Please ensure that there are no spelling mistakes and that you indicate the exact country of the beneficiary.
4 - Once Western-Union payment is made:
Confirm payment with Cryptex24
Once you have made the payment, log back into your Cryptex24 account by clicking on the red button PROVIDE DETAILS.
Fill in the fields with YOUR Western-Union information.
The sender's Note field is not needed.
Press the red button and click the Continue button.
There you go !
Send us the Western-Union Payment Proof and the Crypte24 Confirmation Email
Once Cryptex24 has transferred the funds (it will take a few hours, check your email), please send us a photo with the Western-Union payment, and a screenshot with the confirmation email from Cryptex24:
We should receive Bitcoin in a few hours and validate your order within 48 hours.
5 - Once the information is validated, we ship your order under 48H
After confirming your payment, we will ship your order within 48 hours average (working days).
Your tracking number, to track the shipment of your package will be sent to you by email. This number is also available in your client space .