The peptides are a revolution in the world of sport, a research that ended only a few years ago and is starting to make its way thanks to the revolutionary effects they bring.
More commonly known as "peptide bonds", a peptide is a polymer of amino acids linked together.
A peptide is a molecule created by joining two or more amino acids. They are present in all living cells and possess a variety of biochemical activities. In general, if the number of amino acids is less than fifty, these molecules are called peptides. Special sequences are called proteins. Thus, the peptides can be considered as tiny proteins that are simply chains of amino acids.
There are a wide variety of peptides
1) The Oligopeptides: peptides consist of a small number of amino acids (between 2 and some tens). These oligopeptides can also be classified according to the number of amino acids.
Dipeptides: comprise two amino acids.
Sort peptides: have three amino acids.
The greater the number of amino acids is, the greater the term "peptides" will be used.
2) Polymers: contains a larger number of amino acids. Can also be called polypeptides.
3) Proteins: assemblies of one or more POLYPEPTIDES * have undergone post-translational modifications and protein folding.
4) The Neuropeptides: peptides are secreted by a neuron which then distinguished by its function as a neurotransmitter.
5) Peptide Hormones: class of peptides secreted into the blood that have endocrine functions. Unlike other proteins, peptide hormones are synthesized from amino acids.
Peptide Hormones
Peptide hormones and glucoprotéiniques hormones are molecules synthesized naturally by the body.
The goal of the Peptide cure here is not to be to produce more of these hormones by the body, but to bring him more important quantities. These hormones carry messages throughout the body, and cause the production of new hormones such as testosterone and corticosteroids. These two classes of hormones are therefore anabolic and indirect anti-inflammatory.
There are a multitude of products, each aillant a different action, and will be the precursor of a different hormone.
Peptides are a revolution in the world of Growth Hormone (GH) deficiency, created in recent years, we hear about it only recently. Peptides are simply fragments of the amino acid chain of growth hormone.
The best peptides for sports
Thymosin beta 4 (TB 500)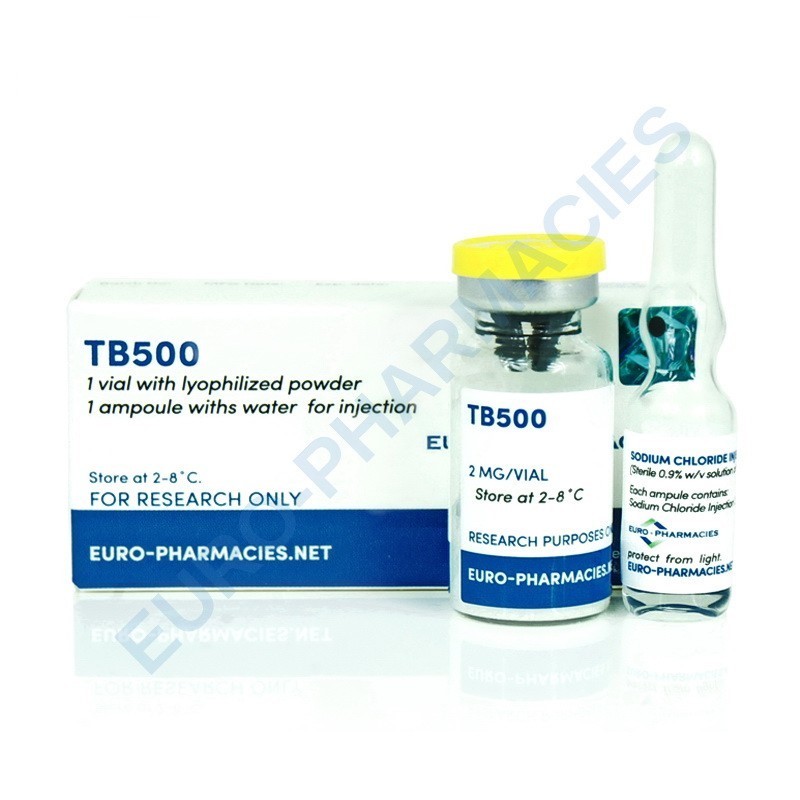 We talk about anabolic with increased stamina and strength. Muscle recovery is also facilitated through action on angiogenesis and the formation of new blood vessels (vascular) This new miracle product is anti-inflammatory and also promotes healing ...
Inputs:
Increases muscle growth with huge increases in stamina and strength
Improves muscle tone
Increase the exchange of substances between cells
Promotes tissue repair
Reduces inflammation of joint tissues
Prevents adhesions training and fibrous bands in the muscles, tendons and ligaments
Endothelial cell differentiation (blood vessels)
The angiogenesis (growth of new blood cells from pre-existing vessels) in the dermal tissue
Decreases inflammation of the tendons or muscles
Sermorelin
Sermorelin is a synthetic analogue of growth hormone releasing hormone. It consists of 29 amino acid sequence which represents the 1 29-fragment of the endogenous GHRH.
This peptide helps increase lean muscle mass, reduce body fat, increase bone density, strengthen the immune system and the heart, as well as other body organs. Nata, sometimes called 1-29 GRF, is a release of the hormone-like growth hormone. It is an amino acid 29-polypeptide representing the 1-29 fragment of human hormone-releasing hormone-releasing hormone, and is thought to be the shortest fully functional fragment of GHRH. It is used as a growth hormone secretion test. Peptide widely used in anti-aging therapy, often in conjunction with testosterone in men. Safer alternative to human growth hormone. Purity: 99% (HPLC). 2 mg per vial.
Dosage: Dosage of 100 to 200mcg. 1 to 2 injections per day (before the workout and before bedtime). Do not exceed 500 mcg per day.
treatment period: between 3 and 6 months.
PT-141 (Bremelanotide)
Bremelanotide (formerly PT-141) is the generic term for a new drug for the treatment of sexual dysfunction in men (erectile dysfunction or impotence) as well as sexual dysfunction in women (disorder of sexual arousal). It is a synthetic aphrodisiac. The difference with Viagra and other related medications is that it does not act on the vascular system but directly increases sexual desire.
Dosage: Take between 0,5 mg to 2 mg (recommended dose).
We advise you to take PT-141 between 2 and 4 hours before the hour of play (sexual intercourse).
PEG-MGF (IGF-1EC)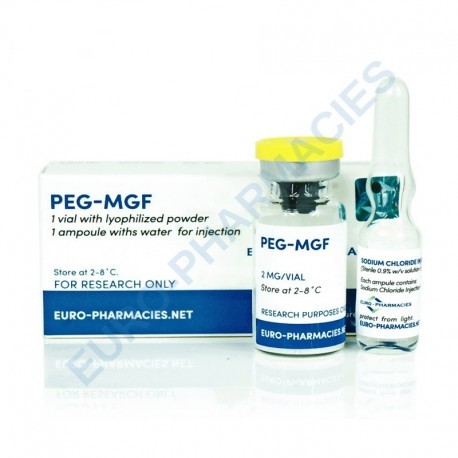 PEG-MGF (Pegylated Mechanotherapy Growth Factor) is a variant of the IGF-1 (Insulin-like Growth Factor) that leads to an increase in muscle cells of the muscles needed for adults to continue growing beyond their genetic limit.
Like other forms of IGF-1, PEG-MGF (also known as IGF-1EC) creates new muscle cells and stimulates muscle growth by promoting nitrogen retention and increasing protein synthesis. PEG-MGF differs from regular MGF since it has undergone a process of "pegylation" which prolongs the half-life of less than 30 minutes to several days.
Dosage: Take 200 mcg daily.
treatment period: between 3 and 6 months.
Melanotan 1 and MELANONTAN 2
The Melanotan (aka: MT) and Melanotan II (Also known as: MT II) are both synthetic analogs of melanotropin which is a hormone secreted by the pituitary melanotrophs.
Melanotan is a linear structure peptide.
The Melanotan 2 is shorter than the afamelanotide and has a circular structure.
MT and MT II permit skin tanning without sun exposure, so they also reduce skin cancer.
The MT II also increases libido and cause spontaneous erections. The effect tanning MT and MT 2 is more intense when the skin is exposed to ultraviolet rays, but remains valid in the absence of this exhibition.
The difference between Melanotan and Melanotan 2:
The melanotan 2 is formed with a shorter amino acid chain, and has a slightly different structure than that of Melanotan 1. Therefore, the MT II has a higher tendency than the MT to bind to other receptors other than the melanocortin receptor of 1 type. This explains the additional effects of MT II. The MT II also binds to melanocortin receptors of 3 4 type and are responsible for the increase in sexual desire.
Dosage MT II: Between 0.25 mg and 1 mg.
MT I Dosage: Between 1.5 mg and 3 mg.
We recommend taking Melanotan I and Melanotan II every day without exception. We advise you to stop taking one of these products when you get the desired color tan.
Ipamorelin
Ipamorelin is a fascinating discovery of muscle building that gets a lot of attention in the bodybuilding world. These GH release properties are what is of interest to athletes and bodybuilders because they can make a huge difference in the amount of muscle you can develop and how quickly you burn fat. The Ipamorelin plays a very important role in anti-aging as it improves sleep, reduces wrinkles, increases muscle tone and energy, allows faster recovery between workouts ...
Dosage: Athletes take 200 mcg per day minimum. Maximum recommended dose: 900mcg daily.
treatment period: between 3 and 6 months
IGF1-LR3
belongs to the family of peptides having the same structure and size of insulin. This is a highly anabolic hormone that is released in the liver and in peripheral tissues in response to GH so that a new muscle can be built. The main work of IGF-1 is to build new muscle tissue by promoting nitrogen retention and protein synthesis.
IGF1-LR3 has a powerful effect on fat metabolism and helps the body to burn fat quickly. It also allows an increase in the body of energy, strength and endurance.
It also improves mental functions such as reflexes and ability to learn.
Dosage: between 20mcg and 120mcg daily.
treatment period: between 4 and 8 weeks.
HGH FRAG 176-191
The most powerful peptide for weight loss is the HGH Fragment 176-191 which is the part of the molecule of growth hormone responsible for burning fat. In studies devoted to it, HGH Frag proved its action and its effectiveness in reducing body fat, especially in the abdominal area. It also allows an increase in strength and endurance but above all lean mass. Very good results are perspective with this peptide (dry / dry weight taken).
Dosage: between 250mcg and 500mcg daily.
treatment period: between 3 and 6 months.
HEXARELIN
Structurally, Hexarelin is similar to GHRP 6 but without the incredible appetite increase. Administered by a subcutaneous injection directly into belly fat. Hexarelin helps reduce visceral fat over time.
Hexarelin is a peptide multifunctional that can benefit many different people because it can: build muscle, increase athletic strength, burn fat and improve skin elasticity.
Users can improve their ability to heal some injuries and protect joints against injury. Any individual with a growth hormone deficiency can also benefit from the effects of Hexarelin.
Dosage: Take minimum 2 mcg / kg body weight per day (individual kgs = 80 160 mcg / day).
treatment period: do not exceed 4 weeks.
GHRP-6 and 2-GHRP
The main differences between the 2 peptides GHRP reside in their side effects.
GHRP-6 causes a significant increase in hunger. Effective action for people looking to "grow" but ineffective for people who want to lose fat.
GHRP-2 is often preferred by people who diet (does not stimulate hunger). The flats: it raises cortisol (a stress hormone), prolactin (a hormone that can decrease sexual desire) and aldosterone (a hormone that promotes water retention).
Dosage GHRP-2 or 6 GHRP-: between 200mcg and 600mcg daily.
treatment period: between 3 and 6 months.
CJC-1295 DAC and CJC 1295 = MOD-GRF
CJC-1295 or CJC-1295 DAC work primarily as a GHRH compound, where GHRH stimulates growth hormone (GH) by the pituitary gland. As a result, being the second most potent peptide for fat loss, the CJC-1295 or CJC-1295 DAC creates an anabolic effect on body tissues.
Other benefits: increase lean body mass with the development of new muscle cells, increase the reduction of body fat through lipolysis and increase in the body's energy, strength and stamina.
The difference between the two is simply the length of the half-life.
CJC-1295 DAC = 8 days
CJC-1295 = 30 minutes
Dosage for CJC-1295: between 100mcg and 300mcg daily.
Dosage CJC-1295 DAC: 2mg week (make an injection).
treatment period: between 3 and 6 months.
Conclusion
The peptides are clearly the new generation of stimulants. Apart from being an alternative to anabolic steroids is a product of the future and we are here for you to enjoy!
* Polypeptide: A polypeptide is a chain of amino acids linked by peptide bonds. Above 50 amino acids are generally described protein.
*Source: Wikipeptides.com